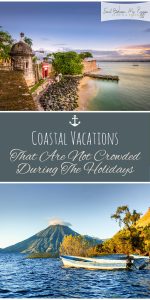 No one wants to spend their holiday vacation shoulder-to-shoulder with someone at the beach, it kind of defeats the whole point of a relaxing vacation! Traveling to a tropical location during the holidays can get especially rough for some travelers and the crowds can be downright unbearable. No one wants to spend their Christmas vacation fighting with someone for the last good spot by the pool! If you're dreaming of a relaxing holiday vacation without the crowds, visit these coastal vacations:
Atlantic Beach, Florida
According to locals, Atlantic Beach is one of the least crowded beaches in Florida. This quiet retreat is nothing like the hectic, crowded chaos found in Daytona! Located just east of Jacksonville, this family-friendly beach is perfect for a wintertime retreat. While visiting, make sure you check out the Dutton Island Preserve for tons of wildlife and other gorgeous scenery.